The Untwisting Scriptures series is written for victims and survivors of spiritual abuse, to help them unravel ways God's Word has been used to keep them prisoner. My goal is to help them walk out of that spiritual abuse, in freedom.
***
Book 2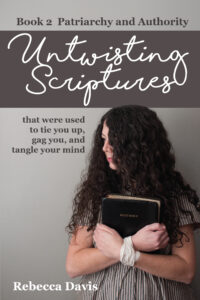 Untwisting Scriptures that were used to tie you up, gag you and tangle your mind: Book 2 Patriarchy and Authority.
"Children obey your parents"? "Rebellion is the sin like witchcraft"? "Obey your leaders and submit to their authority"?
Each teaching is examined thoroughly in the light of the context and the Scriptures as a whole.
This book refutes teachings from "authority" teachers such as Bill Gothard, John Bevere, and Doug Phillips. It goes on to talk about the authority that all of God's people have through Jesus Christ. 
Listen to Rebecca read a chapter from the the audiobook here:
You can go here to learn more and get the full audiobook.
Book 1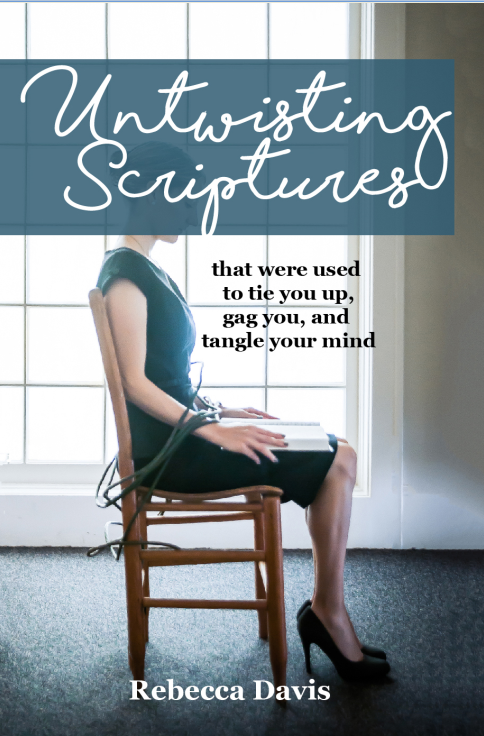 Untwisting Scriptures that were used to tie you up, gag you and tangle your mind: Book 1 Rights, Bitterness, and Taking Up Offenses.
Some of the teachers whose teachings are refuted in this book are Bill Gothard, Bryan Lorritts, and Nancy Leigh DeMoss. This book emphasizes the truth of who Jesus really is and what He really wants for His people.
***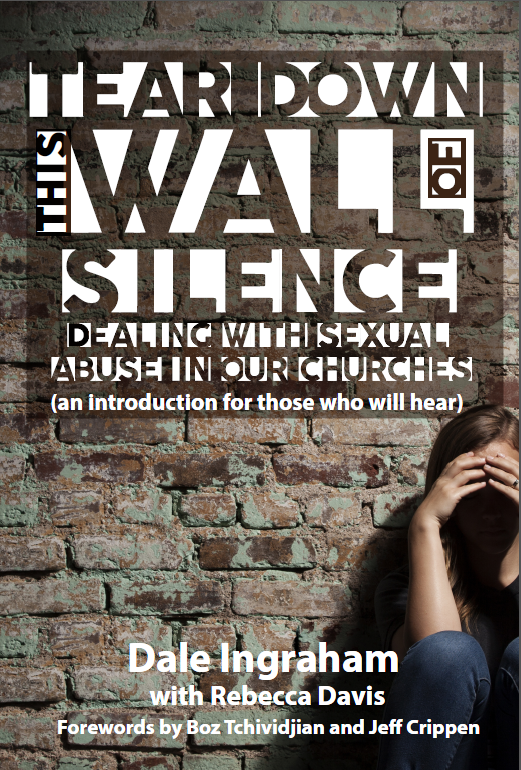 Tear Down This Wall of Silence is another wake-up call to the churches, this one about sexual abuse in our midst. We want to help Christians understand abusers and abuse and know how to help survivors of abuse—such very important topics, because approximately 1 in 3 or 4 will be abused by the time they turn 18, and even more after reaching adulthood. The victims and survivors of sexual abuse are all around us, and several of them provided us with anonymous first-person accounts. For this book, I collaborated with pastor Dale Ingraham, the primary author.
***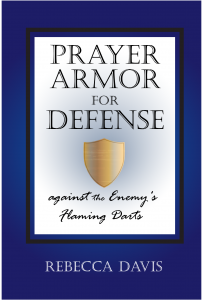 "How can I turn my heart and mind to the Lord when I can't even think?" Writing out a prayer when our minds are clear can help us when our minds are clouded and confused by the enemy, which can happen when we're working in a world of darkness. Prayer Armor for Defense against the Enemy's Flaming Darts is written for those who are being assaulted in their thoughts so much that they find it difficult or impossible to pray, which of course is the time when we most need to pray.
***
These are just my books for adults. The books I've written for children and teenagers, including a series of six books of true missionary stories, a series of Christian biographies, and two devotional books, can be seen at the website www.hiddenheroesmissionarystories.com.