See more about my work as a trauma-informed editor and book coach at Rebecca Davis WordWorking.
To learn more about how I began writing about untwisting Scriptures, go to "The evolution of this blog."  To learn more about my beliefs, go to "Beliefs behind the blog."
If you're looking for a professional bio, you can scroll to the bottom.
*****
I love to speak in public about subjects I feel passionate about, but I feel awkward and shy in a group.
In January of 2015 I graduated from 24 years of homeschooling my four amazing children, who are now superlative adults.
I love seeing the awesome ways Jesus does indeed show up in people's lives, like He promised to do in John 14:21 and 23, often through the Immanuel prayer ministry that I'm trained in. Even in unspeakable darkness, I and the person I'm praying with are privileged to see His Light still shining and His Spirit still working.
I love God. I love others. I love to laugh (and need to do it more). I love coffee with chocolate in it. When I have guests, I put the sugar in one of my Thai mugs, and hot cocoa mix in the other. (Make your own mocha.)   I enjoy getting to offer you your choice of the Joy, Hope, and Peace mugs.
In all the messes of life, I want to walk in the Spirit, in the resurrection power of our Savior, Jesus Christ.
I invite you to come with me.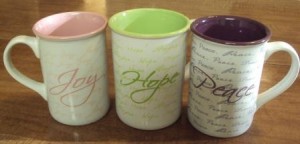 My one-on-one ministry
Since 2017 I've been involved nearly full time with abuse victims and survivors, primarily using prayer ministry (based on the Immanuel Approach prayer ministry model developed by Christian psychiatrist Karl Lehman) to help them connect with Jesus and process their traumatic memories.
For those who can't get past the terms "prayer" and "ministry" because of the ways these words have been used against them,  I've called what I do "spiritual coaching."
Because of my conviction that the work of the Lord should be done without charge, that's what I've practiced—I'm not interested in personal remuneration anyway, and I'm content to live on little.
But the fact is that several of the survivors who have come into my life have very significant financial needs. And I believe it's appropriate for those who benefit from the work of the Lord through my one-on-one ministry to help support others like themselves, as they're able to do so.
This is why a donation basis has been instituted for those who want to schedule one-on-one prayer-ministry-spiritual-coaching times with me.
To learn more about what these donations are and how—if you're working with me and even if you're not—you can donate via PayPal at heart4survivors@gmail.com.
I'm very glad to be able to do the honorable work of partnering with my friends in helping the "widows and orphans" among us.
A professional bio for those who are interested in such things
Rebecca Davis saw her first book published in 1987, With Daring Faith: A Biography of Amy Carmichael, which won the CS Lewis Award for Outstanding Christian Juvenile Fiction. She has gone on to write many more published books, including the Hidden Heroes series of true missionary stories, the Potter's Wheel series of biographies of great Christians, and two devotional books for middle schoolers.  Sonlight curriculum highly recommends the Hidden Heroes series, using such words to describe them as "marvelous," "incredible," "beautiful," "challenging," "dramatic," "exciting," and "glorious."
Since 2015, Rebecca has written or co-written several books on abuse, including Tear Down This Wall of Silence: Dealing with Sexual Abuse in Our Churches (with Dale Ingraham), Unholy Charade: Unmasking the Domestic Abuser in the Church (with Jeff Crippen), and Untwisting Scriptures that were used to tie you up, gag you, and tangle your mind.
You can see her client work at her website Rebecca Davis WordWorking.
Rebecca's ministry includes acting as a compassionate witness to people's hard stories, helping women who are in or coming out of abuse, untwisting Scriptures that have been used to keep people in abusive situations, and offering hope through Jesus Christ. Rebecca writes about these things on her blog, www.heresthejoy.com, drawing from her 40 years of study of the Scriptures.
Rebecca has been married to Tim for over 35 years. For 24 of those years she homeschooled their four children, who are now all grown (three of them married, three grandchildren). She enjoys playing non-competitive games with family and friends.