My daughter Katy was sick, really sick.  It was four days before her wedding.
We were in the middle of all kinds of wedding preparations, and Katy lay on the couch moaning in disbelief that she was about to get married. And her eyes were turning yellow.
So I took her to the doctor to confirm the diagnosis that we strongly suspected: hepatitis, in addition to her mononucleosis. Then he slapped a really large bill on us. And we didn't have insurance.
I sent her out to the car. And I leaned against the outside wall of the doctor's office, and I cried.
We got home, and three wonderful ladies were cleaning my house for me, but I just needed to find a place to go and cry. "Oh, God," I said. "I don't think I'm trusting You any less. I'm just so sad!"
But maybe I really was trusting Him less. The wedding. Her sickness. The money. Even though I wrote a book about George Mueller, I was falling prey to the temptation to turn my eyes away from Jesus Christ and His great provision, to fail to remember His constant care.
The elders prayed over Katy. She revived enough to look glowing on her Christ-honoring wedding day.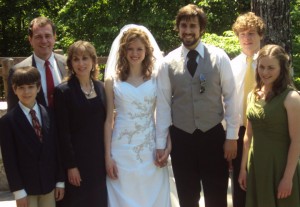 Then a sacrificial gift from a surprising source brought tears to my eyes and reminded me of what I already knew: that the Lord is always caring for us.
This week, when I was praying for a friend in crisis, the Lord brought to mind a piece, probably over a hundred years old, that my mother used to send to me in tract form occasionally through the years.
Oh, it's true. So true. My soul, don't lean against the wall at the doctor's office. Lean against the Savior.
Lean Hard
Child of My love, lean hard,
And let Me feel the pressure of thy care;
I know thy burden, child,
I shaped it;
Poised it in My own hand,
made no proportion
in its weight to thine unaided strength;
For even as I laid it on, I said
"I shall be near, and while she leans on Me,
This burden shall be Mine, not hers.
So shall I keep My child within the circling
arms of My own love."
Here lay it down,
nor fear to impose it
on a shoulder which upholds the government of worlds.
Yet closer come;
thou art not near enough;
I would embrace thy care
so I might feel My child reposing on My breast.
Thou lovest Me? I know it.
Doubt not then;
But, loving Me,
Lean Hard.
***
Go here to download your free Guide, How to Enjoy the Bible Again (when you're ready) After Spiritual Abuse (without feeling guilty or getting triggered out of your mind). You'll receive access to both print and audio versions of the Guide (audio read by me). I'm praying it will be helpful.