I don't really hate it . . . but I dislike it a lot.
It has such a beautiful title: "I Am Satisfied with Jesus." My heart leaps up in response to that title. Yes!
It's an old song, sung in the churches in which I grew up, so you may not know it. It goes like this:
"I am satisfied with Jesus!

He has done so much for me.

He has suffered to redeem me.

He has died to set me free."
Well, the poetry isn't the greatest, but I appreciate the sentiment. So far so good.
Here is the refrain, sung again and again for four verses:
"I am satisfied,

I am satisfied,

I am satisfied with Jesus.

But the question comes to me as I think of Calvary,

Is my Saviour satisfied with me?"
It's a rhetorical question. So you're supposed to know the answer. Listen, and you'll hear it. It comes roaring down the empty corridor and resounding off the concrete walls.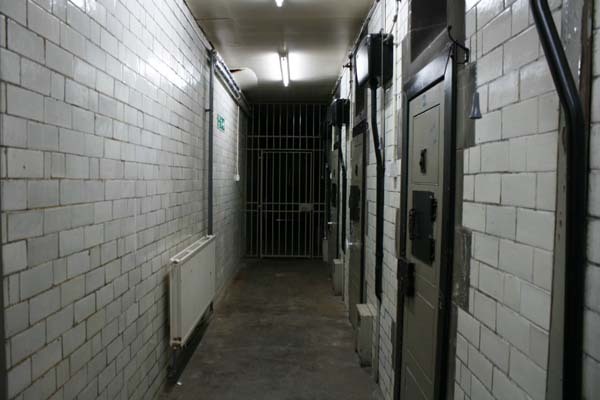 NO!!
No, He's not satisfied! I'm not doing enough! I need to try harder! I need to make a longer list! I need to sleep less! I need to work and work and work! More Bible study! More prayer! More knocking on doors! More church attendance! More participating in church activities! More giving! More giving!
For three more verses this song lays on the burden of guilt heavier and heavier and heavier, until you are bowed almost to the ground under the weight. He has done so much for you! Why aren't you doing more for Him?
And with this mindset, no matter how much you do, you'll always ask that question, because how can you EVER do as much for Him as He did for you? It's impossible.
I never really liked this song, even back in the days when I didn't understand why I didn't like it. In fact, I felt guilty for not liking it.
But then I began to understand Salvation in Everyday Life. The Gospel that saves moment by moment. The Salvation that changes not just my destination some sweet day, but my desires, my direction, and even my death in this very day. I began to understand the outpouring River of God's grace to do all the things He wants me to do, through the power of the Holy Spirit (who, by the way, is ignored in this song about doing things for God).
About three years ago I was giving a little . . . talk . . . to my children about how the mindset of this song is wrong, explaining the truth about salvation. "The truth of the matter is that if I am IN CHRIST, then He is completely satisfied with me, because Jesus Christ is completely satisfying."
My daughter uttered some beautiful words: "That sounds almost too good to be true."
"Ah, yes," I said. "That's the gospel."
~originally published in 2009
***
Go here to download your free Guide, How to Enjoy the Bible Again (when you're ready) After Spiritual Abuse (without feeling guilty or getting triggered out of your mind). You'll receive access to both print and audio versions of the Guide (audio read by me). I'm praying it will be helpful.