Someone wrote to me recently about songs that ask God to "crush me," "wreck me," and "consume me," saying,
If God can abuse his bride, yet tell her that it is for her good, of course a husband can do that to his. And both blame her for not trusting.
This reminded me of the popular teaching that just as the sweetest perfume comes out of crushed roses, God wants to crush us like a rose so He can make perfume like that. (<– Several links there.)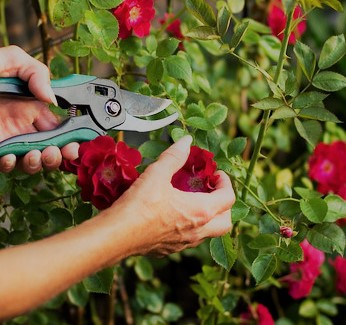 As if somehow our lives would become more pleasing to God if He crushed us.
And apparently, from the songs she was referencing, that's a pretty popular notion.
Does the Bible ever compare the people of God to a flower?
Not unless you count the lilies Jesus pointed to when He said this in Matthew 6:28-30:
And why are you anxious about clothing? Consider the lilies of the field, how they grow: they neither toil nor spin, yet I tell you, even Solomon in all his glory was not arrayed like one of these. But if God so clothes the grass of the field, which today is alive and tomorrow is thrown into the oven, will he not much more clothe you, O you of little faith? 
He compares us to other plants, too. The people of God are compared to trees that bring forth good fruit (Psalm 1, Jeremiah 17:8), wheat that multiplies (Matthew 13), and branches of a vine that draw their life from the vine (John 15), which I talked more about here.
But God's people aren't compared to roses that need to be crushed for fragrant perfume any more than they're compared to eggplants that need to be sliced and cooked for delicious ratatouille. It's just not there, and nothing that resembles it is there.
What the Bible actually says about crushing
God the Father did crush, or bruise, His Son in order to secure our salvation, according to Isaiah 53:9-10 when the prophet, clearly speaking of Jesus, said,
And they made his grave with the wicked and with a rich man in his death, although he had done no violence, and there was no deceit in his mouth. Yet it was the will of the LORD to crush him; he has put him to grief. . . .
But the crushing was done in Jesus Christ so that it doesn't have to happen to us. He took it FOR us. The Bible never says God the Father will crush those who have come to Him through Jesus Christ—in fact it's contrary to His Father's heart. 
The Bible does talk about God's people being refined like gold through trials, and our faith being tried and strengthened (I Peter 1:6-7; I Peter 4:12-13; James 1:2-4,12). But this is very different from being crushed to make perfume.
In fact, when it comes to crushing, this is what the Bible has to say about the Lord's heart toward His people, in Psalm 34:17-19:
When the righteous cry for help, the Lord hears and delivers them out of all their troubles. The Lord is near to the brokenhearted and saves the crushed in spirit. Many are the afflictions of the righteous, but the Lord delivers him out of them all.
What the Bible actually says about fragrance
The sacrifices in the Old Testament were designed to be a sweet-smelling fragrance to God (for example, Exodus 29, Leviticus 1, and Numbers 29). The ultimate sacrifice, Jesus Christ, was a sweet-smelling fragrance to God (Ephesians 5:2).
Paul also spoke of himself and his compatriots as a sweet-smelling fragrance:
II Corinthians 2:14-16  But thanks be to God, who in Christ always leads us in triumphal procession, and through us spreads the fragrance of the knowledge of him everywhere. For we are the aroma of Christ to God among those who are being saved and among those who are perishing, to one a fragrance from death to death, to the other a fragrance from life to life.
Do you see that this reference to being a sweet fragrance has nothing to do with being crushed? It's not even about our lives somehow becoming pleasing to God. It's about spreading the sweet-smelling gospel.
God's people can be a sweet-smelling fragrance to God without being crushed because we are in Christ, all our life is in Christ. We don't have to be crushed to be pleasing to God, because Jesus Christ has borne all the crushing that needs to be borne. Jesus Christ is the sweet-smelling aroma to God.
 Just to be crystal clear, your "pleasingness" to God, your winning of God's smile of approval, does not come through being crushed into perfume. It comes by grace alone through faith alone in Christ alone. Jesus has already done it all.
What the Bible actually says about people who hurt other people
The saddest thing about this wrong teaching is that there are people who love God who have been taught to think that the crushing being done to them by another human being—the cruelty they're experiencing, even sometimes at the hands of those who claim to be servants of God—is somehow from God Himself, so that He can "crush them," "wreck them," and "consume them" in the process of making them into sweet perfume.
On the contrary, though, the truth is that God is opposed to the wicked who harm others, and many Scriptures attest to that. (A few are II Samuel 22:28; Psalm 10:17-18; Psalm 11:5; Psalm 37:9; Psalm 140:12; Psalm 103:6; Proverbs 6:16-19; and II Timothy 3:1-5.) When those who claim to be servants of God harm others, we can see God's attitude toward them by reading the scathing warning He gives the leaders of Israel in Ezekiel 34.
What's the good news?
Here's the joy for the people of God. Jesus Christ bore all the crushing that needs to be borne in order for the lives of His people to be a sweet-smelling fragrance before God. It is all accomplished for us in Christ.
Now instead of crushed roses, we can be like trees planted by rivers of water bringing forth fruit. We can be like branches drawing our strength from the Vine.
God is opposed to the wicked who would oppress the defenseless. He always views that crushing as wrong.
And finally,
Though there is suffering in this life, some of it severe,
God provides a way of escape in times of testing (I Corinthians 10:13). He doesn't want us to suffer passively, but to escape cruel and dangerous situations if possible, as David escaped Saul.
But even as we do that, we can be thankful in the midst of suffering for doing right, because through it we will become stronger and develop stronger character, and with that stronger character will come the anticipation of God's continued work in us and His love poured out in us (Romans 5:2-5).
In our afflictions, our Lord provides comfort so we can then in turn comfort others (II Corinthians 1:3-4). And the glory that is to be revealed in us is greater than any suffering we endure (Romans 8:18, II Corinthians 4:16-17).
Instead of thinking about how our God needs to crush us in order to make perfume, we can remember that He is perfectly pleased with those who are in Christ, He weeps with us in our suffering, He comforts us in our afflictions, and He strengthens our faith as we look to Him in the midst of trials.
That's good news.
***
Go here to download your free Guide, How to Enjoy the Bible Again (when you're ready) After Spiritual Abuse (without feeling guilty or getting triggered out of your mind). You'll receive access to both print and audio versions of the Guide (audio read by me). I'm praying it will be helpful.