So . . .  there have been plenty of times in the last few years (since getting into abuse ministry) that I've experienced overwhelm.
Like . . . to the point where I would be in bed under the covers praying, "Please help me, Lord, please help me."
For real.
I knew I was experiencing what's known as "secondary trauma."
But an astute friend pointed out that I was also experiencing spiritual warfare. She gave me a small spiritual warfare prayer printed on a card.
I personalized that prayer
Not just personalized, though. I wanted to expand on it and buttress it with Scripture that had been especially meaningful to me in times of darkness.
(That is, that's how I felt when I wasn't in bed under the covers. When I was feeling somewhat sane and stable.)
So, me being an editor and all, I kept changing it.
Over time, this short prayer changed so much that it was no longer "the prayer on the card"; it was my own personal warfare prayer.
And I knew that every line of it was buttressed with Scripture that I had personally internalized.
So, when my brain stopped working, I could pick this up and read it aloud. I knew what was behind it, even if I couldn't articulate it right then.
And the Lord brought deliverance . . .
. . . as I used that prayer, again and again. Not the words, of course, the rotely recited words, but the heart cry behind the words. The faith in His ability to deliver.
It even helped a friend of mine when she was struggling.
So I thought, "Hey, this might be helpful to some other people." At a gathering of friends, I took a few minutes to talk about it.
"It needs to be a book"
someone said. Because the Scriptural supports that were obvious to me weren't necessarily so obvious to some others.
So in 2019, the paperback version was published as a small gift-book devotional. Here it is, with a link to its Amazon page: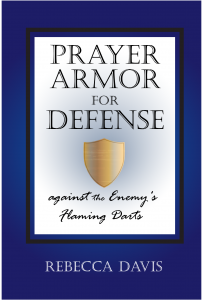 But then I got some requests for it to be in e-book form.
Here's where we get to the FREE GIFT part.
I'm working on the e-book version even as we speak, and plan to have the Launch for it in early December. I would love for you to join me in my Book Launch.
This means you'll get a complimentary copy of the book, a pdf before Launch and a Kindle version on the day of Launch.
And because it's already out in paperback, there are a few reviews . . .
Like this one from Elle Renee . . .

And from Ruth Harris . . .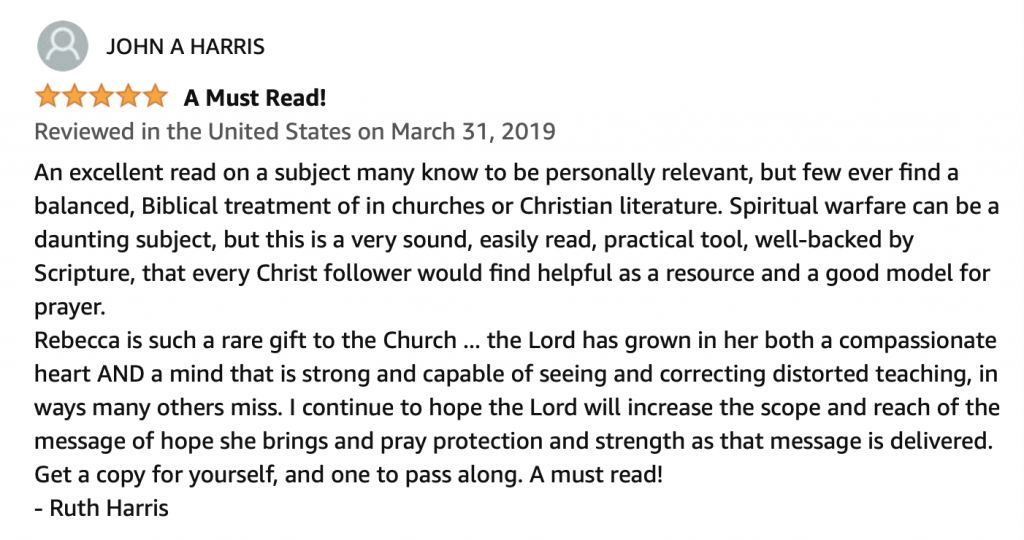 And this one from Megan Cox, founder of the nonprofit Give Her Wings . . .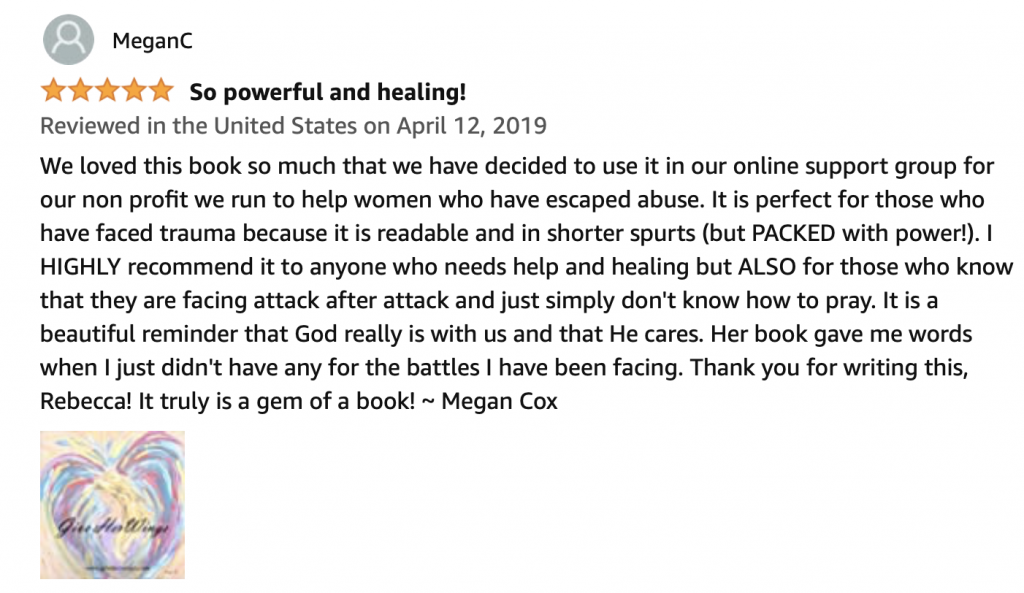 If you'd lik
e a sneak peek
You can look at the paperback copy on the book's Amazon page. But here's a short excerpt.
---
Some have taught that as soon as we learn about a weapon of Satan, we should simply recite with fervor Isaiah 54:17, "No weapon formed against [me] shall prosper."

This is a prime example of taking a Scripture out of context in order to use positive thinking to try to accomplish a goal.

Instead, the wisdom of Christ tells us to infuse our hearts and minds with the truth of Jesus Christ and His great salvation. In this way alone will Satan's lies fall as paper arrows against the shield of faith that covers our hearts.

It is this way, as we have the mind of Christ, that the enemy's weapons of lies against us will not prosper.
"So how can I enter that Book Launch, exactly?"
Ah yes, the big question. Glad you asked.
All you have to do is hit "Reply" or write to rebecca@heresthejoy.com before December 1st. Put "Book Launch" in your subject line, to let me know you'd like to participate.  (If you've already let me know that, then kudos to you and you don't need to notify me again.)
Then here's what will happen
1 — I'll email you a pdf of Prayer Armor for Defense Against the Enemy's Flaming Darts.
2 —  I'll add you to our private Facebook group "Book Launch for Rebecca's Prayer Armor book" or some such snappy name. (Don't worry, even if you're in a bazillion Facebook groups right now, this one this will be fun and short–it will close after the book launch.)
3 — You'll read or at least skim the book and write your review and save it someplace for Launch Day, December 1st.
4 — On December 1st, Launch Day, I'll alert you that it's time to download a FREE Kindle copy of the book from its Amazon page.
5 — Then you'll upload your (already written) review to the book's Amazon review page. This will help the book get more notice from the people who are specifically looking for books on prayer and spiritual warfare.
6 — And, if you think this book is helpful, it would be great if you would also share it on social media. After all, someone might be looking for some little something for a Christmas present for a friend or two.
You know, those friends who are having trouble praying because their thoughts feel scrambled. . . .
Not that I have any idea what that's like. No . . .
I look forward to joining with you in the Book Launch for Prayer Armor for Defense Against the Enemy's Flaming Darts.
And I pray it will be a blessing and help to you as you face attacks from the enemy in the power of our Lord Jesus Christ.
(Know anyone who might be interested in participating in the book launch? Shoot this on over them. Thanks!)
***
Go here to download your free Guide, How to Enjoy the Bible Again (when you're ready) After Spiritual Abuse (without feeling guilty or getting triggered out of your mind). You'll receive access to both print and audio versions of the Guide (audio read by me). I'm praying it will be helpful.