Some of this is time sensitive.
First News: Facebook Page!
(This isn't the Time Sensitive part. That's the second one.)
After 12 years of blogging, TWELVE YEARS, I finally made a Facebook page associated with this website. 
Yes, that took a really, really long time.
Instead of "Rebecca Davis–Here's the Joy" I decided to call it "Rebecca Davis–Untwisting Scriptures" since that will give newcomers a clearer view of the main thing I do here.
On that page I'll be posting questions for discussion, posters, news, and other pertinent bits that for the past several years have just been going on my personal Facebook page.
So if you're on Facebook (and it's understandable if you're not), please do Like, Follow, Share, comment, and all the good things.
Second News: New Audiobook!
And THIS leads us to the time-sensitive announcement.
In May just before the Called to Peace Retreat, I had the bright idea "I'll record my second Untwisting Scriptures book (in my nifty closet audio booth) right quick." Ha ha, well, I should have known from the previous audiobook I recorded that even if the first go-round is fairly straightforward, the finish line can be pretty far out there. 
I'm thankful to say that I had a audio engineer who really knew his stuff, so I'm pleased with the final product, which I'm happy to say is finally available NOW!
Clicking on the screenshot below will take you to my Books page, where you can listen to one full chapter. And from there you can go to the purchase page to learn more.
And through June 30th, you can get this audiobook for 1/3 off the regular price (from $15 down to $10), which makes it cost even less than the print book ($12 on Amazon).
Just type "untwisting2" into the Promo Code box.
What better way to spend your audiobook listening time on vacation this summer than listening to what those Scriptures really mean and hearing the heart of God toward you?
Don't miss it! And be sure to let others know!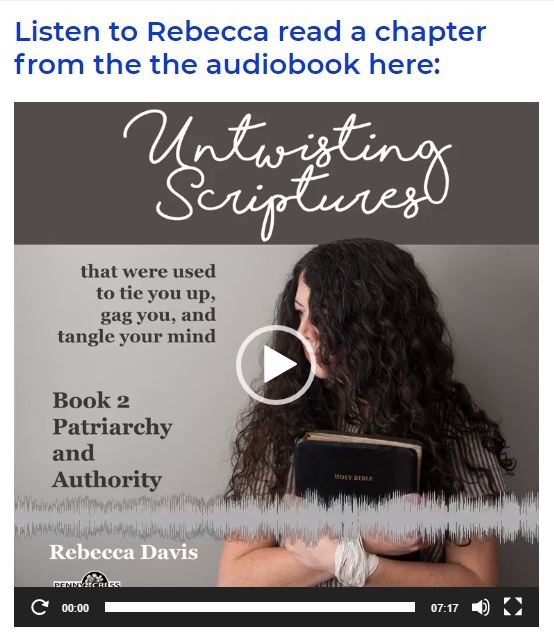 ***
Go here to download your free Guide, How to Enjoy the Bible Again (when you're ready) After Spiritual Abuse (without feeling guilty or getting triggered out of your mind). You'll receive access to both print and audio versions of the Guide (audio read by me). I'm praying it will be helpful.