The Called to Peace Ministries Women's Retreat will be happening April 7-10 in the Asheville, NC, area. Joy Forrest, the founder and director, has said that the response in recent years has been so overwhelmingly positive that she and her team have decided to do it every year. Attendees have found it refreshing, joyful, and thoroughly Christian.
I'll be doing a breakout session on principles for Untwisting Scriptures. I would love to see some of my Here's the Joy subscribers there.
Early Bird registration ends on February 6th, so don't delay! You can go here to register. And scholarships are available, so don't let lack of funds keep you away.
***
Christmas of 2007 my husband gave me the book Boundaries. I had never heard of it.
A couple of weeks later we had a long car drive to a wedding, and I read that book all the way there. I was crying. Suddenly I back-hand slapped my husband on the arm and said, "Why didn't you give me this book a long time ago?"
The person I had needed to draw boundaries with was my mother, who always thought she knew best. She even often quoted the verse, "Do not remove the ancient landmark [boundary stone] which your forefathers have set" (Proverbs 22:28), to let me know that I should believe as she did about all things she deemed important, even as an adult with children myself.
In the book Boundaries, I read things that I had never thought about before–like that a feeling of resentment could be a sign that appropriate boundaries had been violated. I felt resentment toward my mother a good bit. I hated that I felt that way, but I hadn't known what to do about it.
The very concept of "boundaries," drawing limits in a relationship, was a new concept to me, especially when it came to parents, whom you were supposed to honor.
It was a rocky road drawing some boundaries with my mother, and I gave the book probably at least a couple more read-throughs. But finally there came a time when I was able to tell her (with dignity and respect) that I would no longer go back to her bedroom with her to endure the hours-long rebukes on the hot seat. Finally I was able to tell her that whenever she did want to rebuke me, it would need to be when my husband was present.
I still had very few words in my working vocabulary to describe the relationship with my mother, but I finally had the word "boundaries." And I was beginning to understand the concept.
And I knew it was Biblical—both in principle and example.
So it has surprised me when I've heard from some believers that it's not Christian to have boundaries. I've actually heard, "We shouldn't have boundaries because Jesus didn't."
They are referring, of course, to Jesus' willingness to go to the cross, with all the terrible suffering He knew that would involve. After all, "like a lamb that is led to the slaughter, and like a sheep that before its shearers is silent, so he opened not his mouth" (Isaiah 53:7b).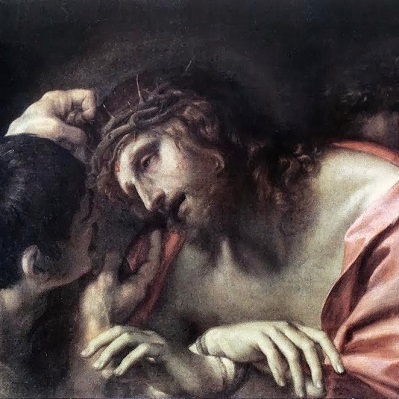 But no boundaries? That meant Jesus didn't have boundaries?
Maybe the problem is a lack of understanding of the concept of "boundaries."
***
***
Go here to download your free Guide, How to Enjoy the Bible Again (when you're ready) After Spiritual Abuse (without feeling guilty or getting triggered out of your mind). You'll receive access to both print and audio versions of the Guide (audio read by me). I'm praying it will be helpful.