Recently Desiring God published an article telling us that discontent is Satan's trap against every woman (link). In the style of Screwtape Letters,  author Rebekah Wilson Merkle offers "advice" from one demon to another. Here is a sampling:
Keep them looking at their husband's failings ("he just doesn't seem to even care about my needs") and not their own heart.
If it happens that you can't keep them from the book [the Bible] completely . . . keep all their thoughts focused on how their husband isn't living up to the instructions the book contains.
You want to encourage friendships that will feed and pet the discontent, rather than uproot it. Even prayer groups and mentorships are fabulous places for this to happen. . . .
I wrote a response explaining how telling readers to be "content" in every relationship—even when "he doesn't seem to even care about my needs"—can serve to keep a woman and her children in a highly abusive situation. Implying that mentors and prayer group friends shouldn't listen to a woman tell about a troubled marriage because she's being "discontent" will do the same. (I also communicated with someone at Desiring God about it.) But then a survivor of abuse from a patriarchal family wrote a response of her own and sent it to me. Since I believe her response is superior to mine and she graciously gave permission to quote it, I'm publishing it now. Here it is.
When I lived at home with my parents, I used to write articles about contentment and joy. I saw that they were closely connected in the Scripture, and I desired to live out those characteristics of a Christian's life. My father would often tell me that he was grateful for my contented, joyful spirit. He would proofread much of my writing and he agreed that I could say such things because they were true of my life.
The years passed, and I began questioning the negative patterns, sinful behaviors, wrong attitudes, and hurtful actions of my parents toward others.
Suddenly I was accused of being discontent. My questions were never answered; the responsibility to "have the right attitude" was put on my shoulders. I was told that if I continued to raise questions about serious issues in my family, I was being discontent and unsubmissive. The accusation of discontent was constant. So I began to study the sin of discontent in God's Word with an open heart to determine if the charge against me was true.
My study led me to understand that true contentment means to be at rest, characterized by peace and deep-rooted joy with the purposes of God. It is a satisfaction that God knows the needs of His children.
To be content is to be controlled by the power of the Holy Spirit in each circumstance, trial, or hardship.
But contentment does not mean resignation to or agreement with evil practices. Contentment does not mean complacency or willful ignorance.
The conclusion I reached was that I was not discontent with God's  provision in my life. I always had everything I needed, and I was not pining away wanting things I did not have. I did not complain about wanting more than what I was given. I was actually quite content and grateful to the Lord for His provision in my life.
My response to my parents was, "I have searched and studied the Scriptures, and I have asked God to show me my heart. I have asked Him to reveal truth." I shared my heart with my parents: what I had discovered in God's Word, my own satisfaction with what God had given to me, how I did not yearn after more things or complain about circumstances. I was transparent about my heart's attitude.
However, after careful study of God's Word, I did recognize that there was something I should be "discontent" about. Sin. No Christian should ever be satisfied, accepting, or tolerant of the habitual sinning of others, especially if those sins are harming people.
I shared with my parents that I was "discontent" with the sin in my family. Carefully and specifically, I  stated the areas of direct disobedience to the Word of God that was occurring in the family. It wasn't about a frustration with petty offenses or annoyances (such as dirty socks on the floor). The sins that I confronted were pornography, slander, vitriolic anger, malicious speech, control and manipulation, hypocrisy, and idolatry.
Over the years, I've heard much teaching on the sin of discontent, and it often focuses mainly on letting go of petty grievances. But that falls into the category of forbearance, not contentment.
In recent years, I've also noticed that those who are being severely abused and who question that abuse are charged with learning to be more content. "Suck it up and trust God with your trial. You need to learn contentment."
This is an unloving response to those who are in harm's way, trapped, afraid, and desperate for life and freedom. 
With material like Rebekah Wilson Merkle's article from trusted sources such as Desiring God, not only will abusers have more fodder to accuse their victims of "discontent," but these accusations will come even from well-meaning people in the church who haven't taken the time to study and find out what contentment really is, and with what circumstances we should never be "content." 
I urge Desiring God to distinguish
the Christian principle of "contentment with necessary provisions" (see for example 1 Timothy 6:8) and the forbearance that Christians are to practice with human foibles, from
a complacent acquiescence that refrains from acknowledging and confronting obvious sin.
No such distinction was made in their article. The implication instead was that any negative word about a woman's relationship was an evidence of her "discontent."
I urge Desiring God to extend the hand to women who may sound "discontent" but who are in fact struggling to come to terms with reality, facing off with wickedness they may have previously been unwilling or unable to admit.
This, after all, is not "discontent." This is integrity. And for the church, it's one more opportunity for compassion.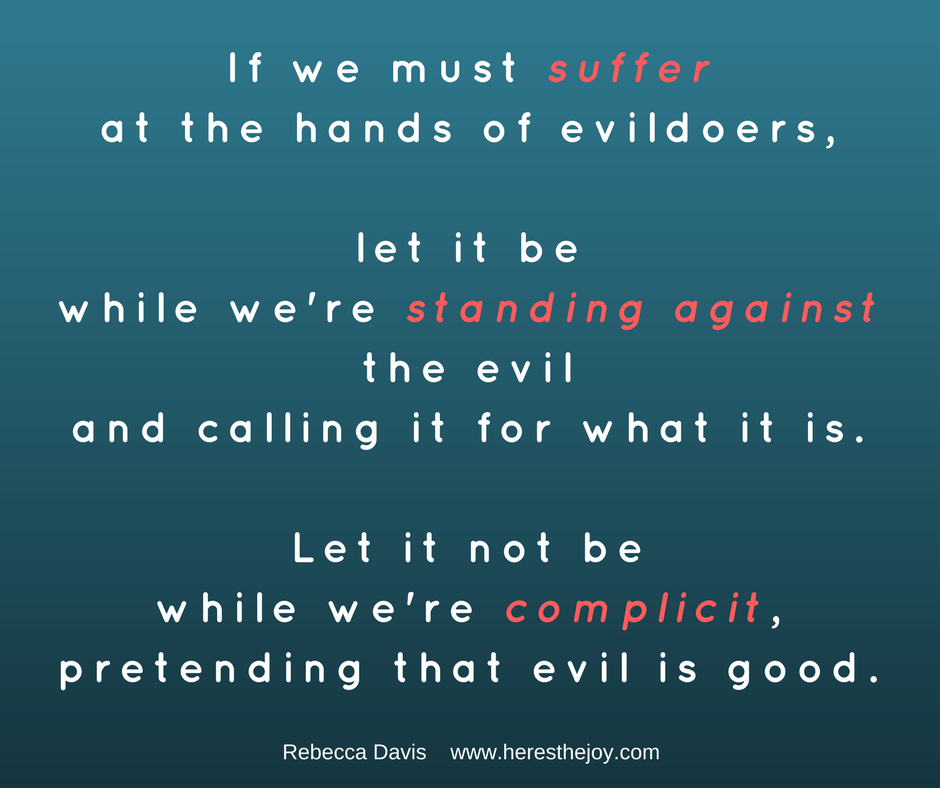 ***
Go here to download your free Guide, How to Enjoy the Bible Again (when you're ready) After Spiritual Abuse (without feeling guilty or getting triggered out of your mind). You'll receive access to both print and audio versions of the Guide (audio read by me). I'm praying it will be helpful.