NOTE: I've written about fear a number of times. Some of the most pertinent are listed and linked down at the end of this article.
We don't want to ignore the fear signals that tell us to get out of an unsafe situation, and I've addressed those in other articles. But the encouraging "fear not" verses in the Bible will help us to shed inappropriate fear.
*****
Have you heard, as I have, that there are 365 "fear not" verses in the Bible, one for every day of the year? (And that this is supposed to help you remember to not be afraid.)
Well, that sounded a little suspect to me, so I decided to check it out. Turns out even websites like this one that claimed they were giving you all "365" fear not verses actually listed fewer than 150.
Maybe they thought no one would ever count?
So, my friends, there isn't a "fear not" verse for every day of the year. Sorry to burst your bubble.
However, even as it is, the list includes some inconvenient ones.
The inconvenient "fear not" verses
How about Judges 4:18? That one was in the list.
That's the verse in which the Israelite woman Jael went out to meet King Sisera and said to him, "Come, my lord, come right in. Don't be afraid." So he entered her tent and she covered him with a blanket.
And we all know what happened next, right? (If you don't, you can read it in Judges 4. I won't ruin the punchline for you.)
That's not exactly a "fear not" verse I'd want to hang on my wall.
Or I Samuel 28:13 – The king said to her, 'Don't be afraid. What do you see?'
Do you want to guess (from the reference) who was talking there, and to whom? I'll give you a minute.
.
.
.
.
.
That was King Saul telling the witch of Endor not to be afraid when the ghost of Samuel arose at her conjuring.
Nope, that one isn't too encouraging either.
There are a few more like that, but you can have the fun of finding them yourself, if you feel so inclined.
Besides those kind of creepy fear not verses, what I found when I studied all the "fear not" verses in the Bible was encouraging . . . in a couple of ways.
For one thing, I've thought a lot about the people who feel guilty for their fear, and how the weight of "fear not" hangs over them when they continue having panic attacks or nameless anxieties. I think looking closely at the fear not Scriptures really can help relieve that guilt instead of simply increasing it.
Also, when you look closely at the "fear not" Scriptures, you'll see that when our Lord speaks to people who are afraid, He doesn't treat their fear like a sin. He treats it more like an injury. "Here, let me make this better."
For another thing, many of the "fear not" Scriptures, viewed in context can give us insight into the heart of God for His people.
And that's encouraging.
So, when I do a word or subject study, I organize all the verses into categories that makes sense to me. When I studied all the "fear not" (or "do not be afraid") verses in the Bible, I organized them according to who the speaker was and who he or she was speaking to.
"Fear not" Directly from God to a Person or Group
I saw that many of them were to a specific person or group of people, like when He spoke through Moses to the Israelites in Deuteronomy 1:21:
See, the Lord your God has given you the land. Go up and take possession of it as the Lord, the God of your ancestors, told you. Do not be afraid; do not be discouraged.
Now, that's beautiful and inspiring, and we can learn about God by the way He led the people of Israel.
BUT.
This isn't directed to everyone.
I've written before about the importance of focusing on WHO a Bible message is directed to. When it's clearly directed to one person, does it apply directly to us? Maybe and maybe not. Can we learn from it? Yes, always.
MANY of the 'fear not" verses are spoken from God directly to a person. To Abram in Genesis 15:1, to Moses in Numbers 21:34, to Joshua in Joshua 8:1, to King Ahaz in Isaiah 7:4. If you study all of these "fear not" verses, you'll learn a lot about how God works in specific situations. And it can be heartening and encouraging. But it's not appropriate Biblical exegesis to assume that God's specific words to a person or group are written directly to you.
One day the specific situation might be yours, and you might receive a specific "fear not" from the Lord about it. But until then, we'll continue to be encouraged by these examples.
"Fear nots" from David in the Psalms
Psalm 3:6 – I will not fear though tens of thousands assail me on every side.
Psalm 23:4 Even though I walk through the darkest valley, I will fear no evil, for you are with me; your rod and your staff they comfort me.
Psalm 27:1 The Lord is my light and my salvation – whom shall I fear? The Lord is the stronghold of my life – of whom shall I be afraid?
Psalm 27:3 – Though an army besiege me, my heart will not fear; though war break out against me, even then I will be confident.
Psalm 46:2 – Therefore we will not fear, though the earth give way and the mountains fall into the heart of the sea.
Psalm 56:11 – in God I trust and not afraid. What can man do to me?
Psalm 91:5 – You will not fear the terror of night, nor the arrow that flies by day,
Psalm 118:6 – The Lord is with me; I will not be afraid. What can mere mortals do to me?
These are beautiful—and very personal—prayers from David to the loving Heavenly Father.
David actually had a relationship with Him.
As you read and study these Scriptures, you can thank God for David's example, and you can ask Him to grow you into this kind of fearlessness.
AND you can also notice that sometimes David actually was afraid and overwhelmed. Many of his psalms, though they end with trust, start with fear, complaining, and overwhelm.  But in those feelings, he turned to God.
So here's an important way to pray.
We want to express to the Lord our desire to be appropriately unafraid. Desire in the Christian life is so important! When you desire to have a changed heart, God is willing to work.
We want to ask the Lord "What's in the way of my living without fear?" That is a huge one. If you're living with fear, it could be because you're in a very unsafe situation and the fear is a signal for you to get out of it. Instead of simply berating yourself for being fearful, you can be gentle with yourself and learn to listen to the Spirit and become educated about what kinds of situations are unsafe and how to safely deal with them.
And you can trust the Lord that as you progress in your life as a child of God, you will learn more and more to live without fear.
"Fear not" from Jesus to His Disciples
Since believers of today are also Jesus' disciples, then that makes these verses seem more like they apply directly to us. Like these:
Matthew 10:19, 26, 28, 31 – But when they arrest you, do not worry about what to say or how to say it. At that time you will be given what to say. . . . 'So do not be afraid of them, for there is nothing concealed that will not be disclosed, or hidden that will not be made known.' . . . Do not be afraid of those who kill the body but cannot kill the soul. Rather be afraid of the One who can destroy both soul and body in hell. . . . So don't be afraid; you are worth more than many sparrows.
Luke 12:4, 7, 32 – 'I tell you, my friends, do not be afraid of those who kill the body and after that can do no more.' . . . Indeed, the very hairs of your head are all numbered. Don't be afraid; you are worth more than many sparrows.. . 'Do not be afraid, little flock, for your Father has been pleased to give you the kingdom.'
John 14:27 – Peace I leave with you; my peace I give you. I do not give to you as the world gives. Do not let your hearts be troubled and do not be afraid.
Yes, I'd agree that these Scriptures apply to us. Our Lord Jesus wants to make us fearless and full of peace, even in the face of the enemy.
But notice something.
When Jesus said these things to His disciples, they were still a very fearful group of men. These are the same men who all scattered in fear when He was arrested.
It wasn't until much later, in the book of Acts, when these same men became fearless. By that time, through the power of the Holy Spirit, God had changed them.
You can also express your desire to the Lord. Your desire: "I want to be fearless too. Will you be in the process of changing me the way you changed the disciples?"
You don't have to feel guilty that you're not fearless now.
You don't have to figure you're a spiritual failure because "I'm never going to measure up."
Just express your desire to the Lord, to be changed, and then trust Him that as you follow Him, He will change you.
And get out of unsafe situations if there is any way to do so. After all, the disciples did that too.
 "Fear not" in the Epistles
I'll be addressing several of these in separate blog posts, but there are a couple to talk about here.
I Peter 3:14 – But even if you should suffer for what is right, you are blessed. 'Do not fear their threats; do not be frightened.'
Again, this one is about persecution. Peter was clearly harking back to what the Lord Jesus Himself had said to the disciples in person. How much easier this instruction was to follow now that He was filled with the Spirit and had been living for Jesus for many years!
Hebrews 13:6 – So we say with confidence, 'The Lord is my helper; I will not be afraid. What can mere mortals do to me?'
Of course, many of us might think, "Um, man can do a LOT to me. Some things a lot worse than death, even."
But the context of this one is material possessions. The whole thought is this:
"Keep your life free from love of money, and be content with what you have, for he has said, 'I will never leave you nor forsake you.' So we can confidently say, 'The Lord is my helper; I will not fear; what can man do to me?'"
This took me back to Hebrews 10:32-36.
But recall the former days when, after you were enlightened, you endured a hard struggle with sufferings, sometimes being publicly exposed to reproach and affliction, and sometimes being partners with those so treated. For you had compassion on those in prison, and you joyfully accepted the plundering of your property, since you knew that you yourselves had a better possession and an abiding one. Therefore do not throw away your confidence, which has a great reward. For you have need of endurance, so that when you have done the will of God you may receive what is promised.
When it comes to material possessions, the worst they can do is take all of our material goods. They cannot take the Lord from us, or our eternal possessions. We can suffer in this life, but they cannot take our eternal life.
As we grow and mature in the Lord, we can begin to see this more and more clearly.
And during those earlier and more fearful days? One of my favorites, which I've referenced several times at Here's the Joy.
From Jesus, our Good Shepherd, in Luke 12:32.
Fear not little flock, for it is the Father's good pleasure to give you the Kingdom.
A closing thought
There's one more verse I want to point out.
It reminds me of how Romans chapter 4 emphasizes the FAITH of Abraham. Hebrews 11:8-19 emphasize the FAITH of Abraham. Even though, when you read Abraham's story in Genesis, you might think he was weak and waffling in his faith.
The verse is Psalm 78:53, which is right in the middle of telling the story of the Israelites' Exodus from Egypt.
Psa 78:52-53 "Then he led out his people like sheep and guided them in the wilderness like a flock. He led them in safety, so that they were not afraid, but the sea overwhelmed their enemies."
Really, Lord? They weren't afraid?
Here's what hopeful about this. We actually know good and well that the Israelites were afraid when they first left Egypt. Exodus 14:11-12 makes this really clear.
But then they saw what God did. He had promised to deliver them, and He kept His promise.
He delivered them.
When they saw God's work, His promise-keeping deliverance for them, they were no longer afraid. In fact, they rejoiced in song for the first 21 verses of the next chapter.
If you are afraid now, for whatever reason, take heart.
Keep looking to Jesus, and following Him. As you express your desire to Him to let go of inappropriate fear, as you ask Him to uncover your inappropriate fears and give you truth and boldness, He'll do that for you.
He will lead you step by step in the way that will shed your fear, bit by bit or all at once.
He will fill you with strength and song.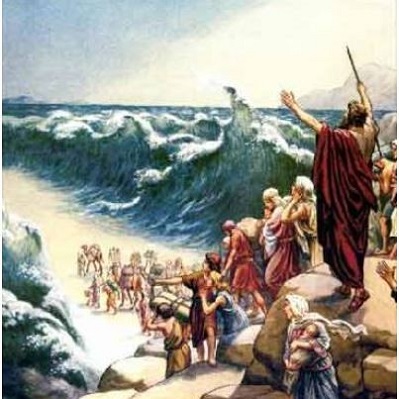 *****
A few of my other blog posts that ponder fear.
***
Go here to download your free Guide, How to Enjoy the Bible Again (when you're ready) After Spiritual Abuse (without feeling guilty or getting triggered out of your mind). You'll receive access to both print and audio versions of the Guide (audio read by me). I'm praying it will be helpful.