There is much to be gleaned from the Scriptures that will help us as we discern what's true and what's false in the church world. The quiet hours you spend in the Word as you seek Jesus through the power of the Holy Spirit—even if they produce questions you can't answer right away—will ultimately help you better see who Jesus really is and what God is really doing.
*****
Sometimes when I study a passage of Scripture . . . it reminds me of another . . . and another . . . and then I see how they link together.
The other day I was reminded of a time that happened, when Philippians 2 and First Peter 5 and Psalm 22 all pointed to the same thing, a truth driven home on Passion Week, as I pondered how our Lord Jesus was humbled . . . and then exalted.
And the roaring lion was defeated.
And it's true for all His children too.
Philippians 2 (about Jesus being humbled and exalted) brought me to First Peter 5:6-9.
Therefore humble yourselves under the mighty hand of God, so that He may exalt you at the appropriate time,
casting all your cares on Him, for He cares for you.
Be sober [well balanced and self-disciplined], be alert and cautious at all times. That enemy of yours, the devil, prowls around like a roaring lion, seeking someone to devour. 
But resist him, be firm in your faith [against his attack—rooted, established, immovable], knowing that the same experiences of suffering are being experienced by your brothers and sisters throughout the world.
It's a Scripture I'd pondered many times in regard to myself. But because I saw Jesus as our forerunner in all of these things, this time I meditated on it in regard to Him, because I found out a long time ago that when I meditate on the Scriptures as they relate to Jesus, my own soul is deepened. This is how it looked:
6 Our Lord Jesus humbled Himself under the mighty hand of God, and He was then exalted at the appropriate time,
7 Our Lord Jesus cast all His care on the Father, and the Father cared about Him.
Even when it seemed like the Father didn't care, even when the Father turned His face away, the Father still cared deeply about His Son. They both knew what lay on the other side of that cross—great joy.
8 Jesus was sober [well balanced and self-disciplined], He was alert and cautious at all times.
Throughout His whole life and ministry, Jesus knew He was in a spiritual battle. He knew the devil wanted nothing better than to bring Him down, to destroy Him. He stood sober and vigilant, alert and cautious against His adversary.
8b He knew His enemy, the devil, prowled like a roaring lion, seeking to devour Him.
9 But our Lord Jesus resisted the devil, firm in the faith [against his attack—rooted, established, immovable].
Throughout the life of Jesus, and especially as He went to the cross, the lion roared. Roared to split the earth in two.
But Jesus did it, He resisted that devil, even in His death. And He did it with 100% success, firm in the faith.
Psalm 22 talks about it too. Psalm 22, the perfect psalm for Passion Week. It's the psalm that begins with one word from the cross, ends with another word from the cross, and in between describes everything that was going in Jesus' heart . . . in between.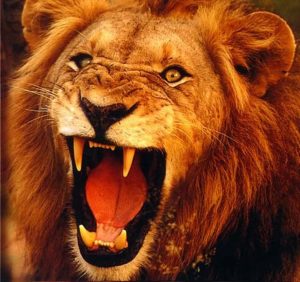 And look—there's that roaring lion again. Not once, but twice.
"They gaped upon me with their mouths, like a ravening and a roaring lion."  
"Save me from the lion's mouth!"  
 In the death of Christ, that old lion roared. The lion roared, as if he had gotten the victory.
But through the very thing that old lion thought had gained him the victory—the bloody death of Christ—he was trounced.
And then the triumphant resurrection of Christ delivered the guarantee of that lion's complete and utter defeat.
And where does it go from there? Even when I focus on Jesus, it still carries great weight for me:
9b Our Lord Jesus also knew that a similar experience of suffering would be experienced by His brothers and sisters throughout the world.
Though of course any suffering I or anyone undergoes is never as bad as what Jesus endured, maybe that isn't the point. Maybe the point isn't to compare suffering. Maybe the point is that when suffering happens, we know He has gone before us.
In some old notes of mine from First Peter 5:6-9, I had written,
"I went through the time of the roaring lion trying to devour my soul."
And again, another time,
"I have been in the presence of the roaring lion for an extended period, more than ever before in my life. It emphasized to me the importance of that sobriety and watchfulness of spirit in this passage."
When I look at the dates on those notes (yes, I've always dated my Bible notes), I can remember what I was going through. They were times of great trial that I've never blogged about, except obliquely.
But they were times when the Lord showed me His presence in the midst of the warfare, in the midst of the lion's roar.
Certainly Jesus knew that His sisters and brothers all over the world would also be facing off with the enemy, in His strength. They would endure persecution for their faith. They would face cruelty at the hands of those who claim to be children of light but who are really children of the kingdom of darkness. They would face the suffering of fighting for others in that dark valley where the battle is waged so fiercely.
In the suffering of Christians, that lion roars. That lion roars, that enemy, always trying to devour some believer—even in his death throes.
But ultimately he will be forever defeated, in the very thing in which he thinks to gain the victory, as suffering believers resist him steadfast in the faith of what Jesus Christ has done.
 Even in the middle of that suffering, the work of God will be accomplished, as souls are delivered from darkness to light.
It is by faith in His full and complete victory—by faith alone—that we will find the victory over darkness and destruction that we so long for, we so desperately seek. Never forget that truth, even when the battle fiercely rages.
We remember this truth—Passion Week and always—as we look by faith to the finished work of Jesus Christ . . .
The lion roars in vain.
*****
An earlier version of this meditation can be found here.
***
Go here to download your free Guide, How to Enjoy the Bible Again (when you're ready) After Spiritual Abuse (without feeling guilty or getting triggered out of your mind). You'll receive access to both print and audio versions of the Guide (audio read by me). I'm praying it will be helpful.